Testimonials
Here is some feedback from happy parents and girls who have attended a Girl-School course themselves.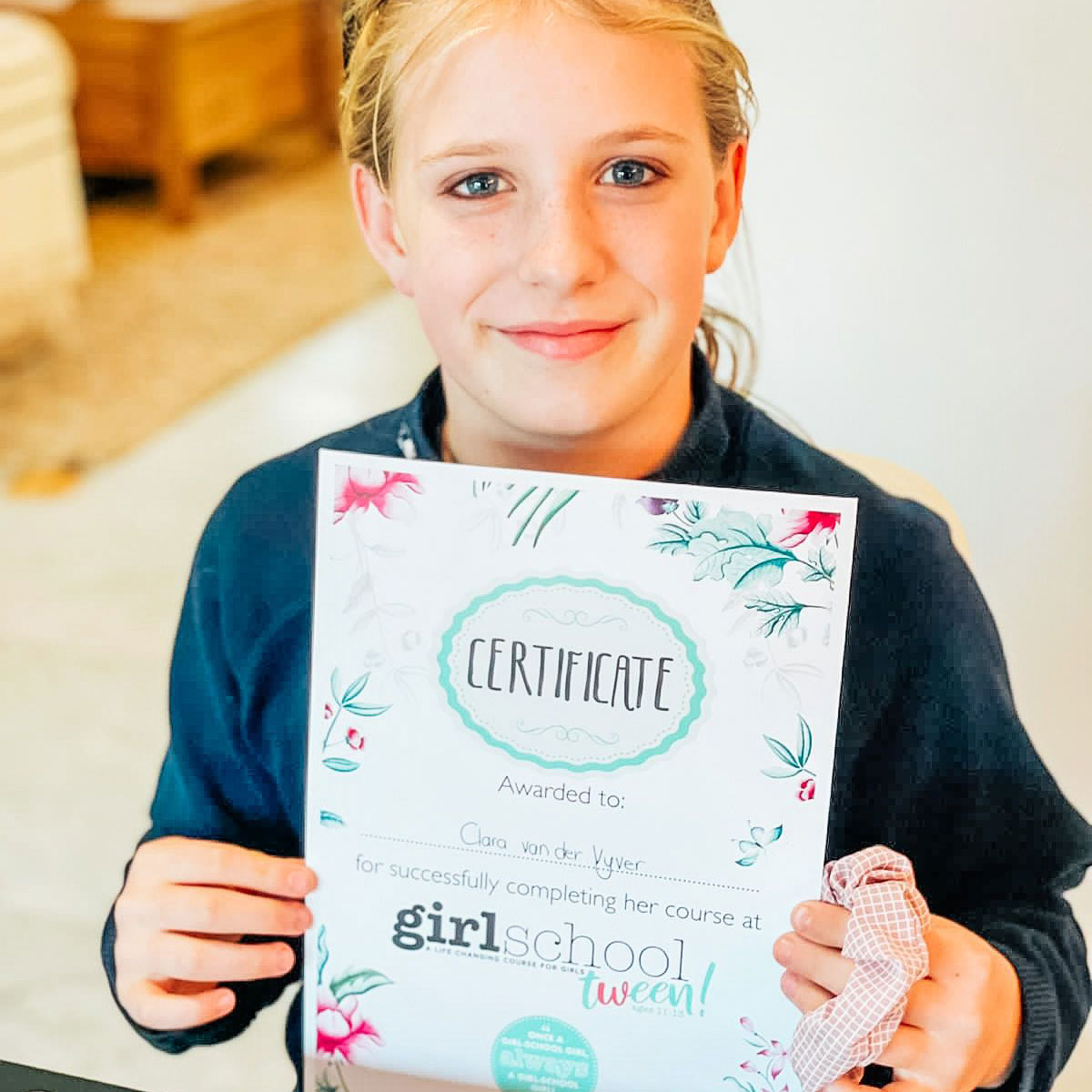 Happy parents
"Thank you so much for all your time and effort. My daughter is timid and does not warm up to many people, but she likes you.
It is sometimes difficult for a single dad to teach a young lady all the girl stuff she needs to know. It is also challenging to get it across correctly and gently. She enjoyed it thoroughly. She could not stop talking about everything she had learnt and wanted to show me everything."
– Dewaldt, Girl-School Parent
"Mikayla het Girl-School baie geniet en sy volg die goedjies wat sy geleer het elke dag getrou na.
Sy het orals kaartjies teen die mure op geplak wat sy moet onthou en ek is beindruk met hoeveel sy verander het deur die goedjies wat sy nou doen.
Ek is baie bly en tervrede met wat sy geleer het."
– Ewald, Girl-School Parent
"Ek wil opreg dankie se dat my dogter die Girl-School kursus kon bywoon. Sy is 'n ander mens!!! Sy is nou in n roetine om na haar vel om te sien en leer ons alles en nog meer van tafelmaniere. Sy dek ook die tafel, sonder dat ek haar hoef te vra. Sy het maats gemaak en kan nie ophou praat oor haar ervaring nie. Die aanbieder  het haar geinspireer en sy praat met groot lof van haar.
My dogter wil net weet wanneer die volgende Girl-School is, want sy wil dit weer bywoon. Ek hoop van harte dat daar nog modules is wat behandel kan word vir haar ouderdomsgroep.
Baie dankie weereens.
Ek kan dit vir seker aanbeveel."
– Nettie Moffatt, Girl-School Parent
"I heard about Girl-School from a friend and was immediately interested as I have a teenage girl struggling with self-confidence and skin issues. She attended the school, and I got a brand new girl back with confidence. She could immediately make her needs and desires known to me and negotiate with me, which she had never done before. I see a direct change in her skin because she learned a proper cleaning technique. She made new friends and felt she could conquer the world by associating with a successful dynamic, confident woman.
As a single father, it helped me connect to my daughter. The results amazed me, and I am genuinely appreciative.
I CAN RECOMMEND THE GIRL-SCHOOL TO EVERY GIRL"
– Girl-School Parent
"Ek wil net vir jou baie dankie vir die twee dae. My dogter is 'n ander mens. Ek het nou net 'n "manicure" gekry, en sy gaan nou haar gesig was.
Sy is 'n ander mens en positief en vriendelik. So, baie, baie dankie en "well done" vir Girl-School.
– Girl-School Parent
"Thank you for providing this space and opportunity for my daughter to develop self-confidence and learn valuable new skills. This was truly an investment in her future as this course empowered and inspired her to be a happy teenager in these challenging times that we live in today."
– Kerryn Soles, Girl-School Parent
"Dankie vir al die lekker tye. Dankie dat Juffrou soveel moeite gedoen het. Dankie vir al die mooi goed wat Juffrou vir my gesê het."
– Gr 5 Girl-School Girl
"Ek wil net dankie sê. Dit was seker een van die beste ondervindinge op aarde. Baie baie dankie. Juffrou was so oulik.
Well done! Ek weet ander kinders gaan dit ook geniet."
– Gr 5 Girl-School Girl