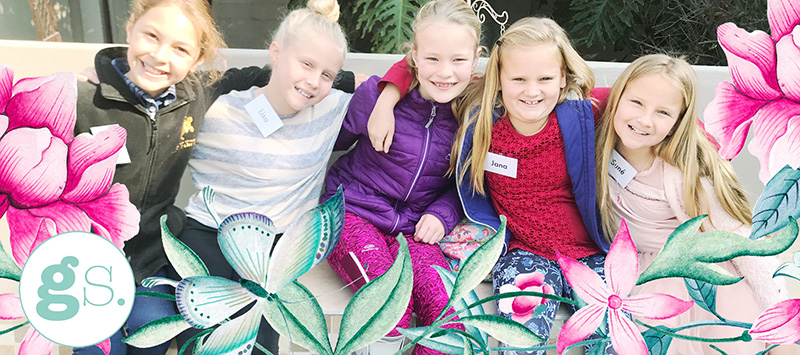 Lisa het die kursus vreeslik geniet, sy kon nie ophou gesels oor al die mooi dinge van vrouwees nie. Sy het spesiaal gevoel met die mooi lokaal en stylvolle aanbieding! Baie dankie vir die lewenslange invloed in my meisiekind se toekoms.
Frequently Asked Questions
This FAQ section is applicable to the "LIVE" Girl-School course. If you have questions regarding "Girl-School ONLINE", please contact us here.
My daughter is slightly older than 12, can she still attend?
We strongly recommend that the best time to do this course will be in grade 3, 4, 5 & 6. Should your daughter be in grade 7 please have a look at our 'sister' course for High-School girls that she can attend from grade 8. Click here to view their website.
How much TIME will Girl-School take?
Girl-School is presented over either ONE or TWO days from 9:00 – 15:00/16:00 or over 15 weeks for a 70-minute session per week. See course details for each specific course when you enrol.
What LANGUAGE do you present the course in?
Girl-School "Live" is currently presented in English or in Afrikaans. When signing up for a course please make sure that you select a course that is presented in your language of choice.
Who presents the course?
The course is presented by Girl-School Founder, Anri van der Linde.
Will my daughter receive a certificate?
Absolutely! On successful completion of the course, your daughter will receive a Girl-School certificate.
How do I enrol my daughter?
To view the available LIVE workshops click here.
There you will see the courses that are open for enrolment.
Under each course is a button that will open the online enrolment form. Once you've completed and submitted the form, our Admin Office will send you a confirmation and further communication.
Will Girl-School provide lunch during the course?
After experimenting with this idea, we made a decision NOT to include lunch for the girls. Our main reasons:
1) We found that with this age group of girls, there are many food preferences and dislikes, which made it difficult to serve a lunch that will be 'acceptable' and enjoyed by the WHOLE group. We also have to consider food allergies.
2) We also see that not all the girls get hungry at the same time and we've had girls that were not ready to eat lunch at 12:00, but were then hungry later. Some even eat their packed lunch earlier and then only snack for the rest of the day.
3) Including a served lunch will increase the course fee. Feedback from parents has been that they would rather pack a lunchbox for their daughters with their favourite snacks and food that they know they will enjoy, than paying extra for lunch to be included.
WHERE do you present the course?
Girl-School is presented at various venues.
To view the available LIVE workshops click here.